Better Life Cuisine


717 Broadway Street Santa Monica, CA 90401-2607
Insider Insights: I had lunch here with my friend Melissa, The Raw Food Stylist! This place offers organic, raw, vegan, deliciousness. Their food is fresh, wholesome, & worth checking out! It actually took us quite a bit to finally choose what we wanted to eat from their impressive menu. While we decided, I sipped on some of their free natural fruit infused water which was incredibly tasty….when's the last time you decided to infuse your water with basil, strawberries, green apples, & cucumbers?! It's definitely a down to earth scene & only 7 blocks away from the delightful Santa Monica Beach & Pier. When you're eating so much nutrient dense food it wasn't hard for us to believe that we were stuffed! The food is incredibly filling. Some things that I've personally indulged in & would highly recommend…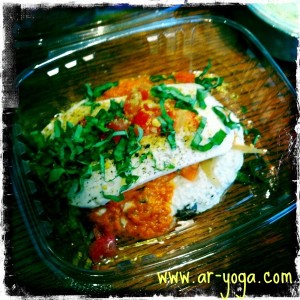 Lasagna…………………………………..$11.50
Marinara sauce, zucchini, mushroom, grilled onion, ricotta cheese, Parmesan cheese, tomatoes, basil, mozzarella cheese. Since it's Raw Vegan Food there's actually no cheese, but an amazing combination of cashews, macadamia nuts, garlic, & a sea root veggie. mmm!
Curry Croquette…………………………………..$10.75
Mixed greens, alfalfa sprouts, sunflower green, tomato, grilled onions, cucumbers, curry sauce, 3 croquettes & house dressing. DELICIOUS! I'm not exactly sure what the secret recipe for the croquette is- it's some sort of mash up of nuts, carrots, garlic, ginger, & the liking- whatever it is they definitely make this salad happen!
As far as drinks are concerned, I got down on the…
Vampire Juice…………………………………..$6.95
Carrot, beets, apples, celery.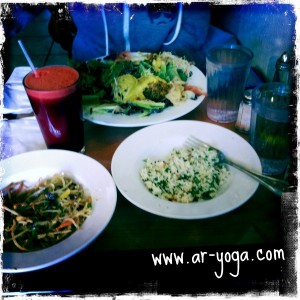 While Melissa sipped on…
Green Power Juice…………………………………..$7.95
Celery, collard green, kale, parsley, cucumbers.
Wondering what Raw Foods is? Read about Raw Food under the insights section!