Seed


1604 Pacific Ave Venice, CA 90291
Mission: We believe that food is an essential source of our energy, health, & happiness. Preparing fresh vegan, macrobiotic cuisine with no animal products, diary, eggs, or refined sugars. Using filtered water and locally grown produce whenever possible. Seed is dedicated to ecological sustainability and responsible buisiness practices. In the same way that seed provides the beginnings for a vibrant planet, the food we eat provides the beginnings for a vibrant, flourishing life.
Insider Insights: This spot is just about a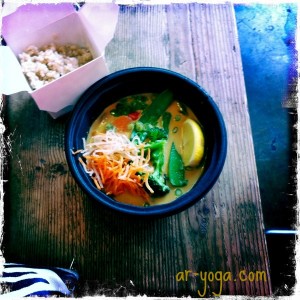 3-5 min walk from the beach. They offer dynamite organic, vegan, macrobiotic food. And to make your day that much more incredible it's all served up by a friendly & attentive staff. When I went in the cashier who took my order & the person who brought my food to the table was actually the owner & chef himself, Eric Lechasseur- now that's not something you see everyday. He was very pleasant & even took the time to engage in a genuine conversation with me as he wandered the restaurant cleaning off tables. It's very clean & cozy (seats about 20 people), and there's even a small outdoor patio (seats about 8) to enjoy a bit of people watching downtown Venice on a sunny day. When I went it was a chilly day near the beach so I was craving a dish that would be warming. I went with Thai coconut red curry (Brown rice served with broccoli, zucchini, potato, snow peas, & carrots in a spicy coconut-curry sauce). The coconut-curry sauce itself wasn't as thick as I was expecting, but overall the dish was delicious, fresh, & filling. From my experience I can definitely tell they are living up to their mission of supporting those who seek a vibrant, flourishing life. If you decide to indulge here it's good to know that it is a bit more on the pricier side & they don't have restrooms. Whether you consistently adhere to Macrobiotic diet suggestions or are simply looking to expand your horizons, I highly suggest Seed's organic, vegan, & marco menu.
Learn more about the Macrobiotics Lifestyle here.