Embrace who you are. Embrace the diversity around you. Educate your friends and family. Educate your peers at work and school. Educate the community you live in. Be empowered and empower others. Love life. -3Elove

I had the pleasure of meeting Stevie Hopkins when I was somewhat studying at the University of Illinois. Although, I do question his frozen yogurt concoctions (he once made me a mash up of peanut butter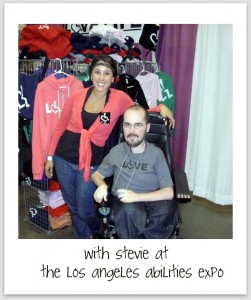 + peaches + sprinkles + cinnamon + popcorn? it's cool, there was a cherry on top), I have never questioned his ambition to bring his company & social message to life.
3E Love is a disability awareness clothing line & marketing company founded in 2007 by siblings Annie & Stevie Hopkins & their family & friends. The mission of the company is simple; to create and market products and services that embrace living life no matter the obstacles, and by doing so, educate society and empower those with disabilities to love life.
Annie took the traditional symbol that represents "handicap" & "disability", and placed a unique twist on it. She gave rise to the international symbol of acceptance. On January 20th, 2009 Annie was taken from this world. Since then Stevie has done remarkable things to honor his sister's legacy, celebrate her, & keep her spirit alive. One of the many notable things he's done is to push for January 20th to be acknowledged as the International day of Acceptance. This past week, January 20th, was an opportunity to encourage social acceptance of people with disabilities; a day to embrace, educate, & empower; and a day to honor the late Annie Hopkins, co-founder of 3elove.
How do I embrace, educate, & empower?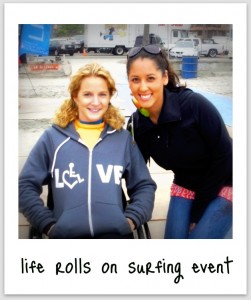 I love to challenge traditional rehab models & use yoga to help people reconnect with their bodies. I currently am a private yoga instructor who adapts & individualizes yoga for those who are paralyzed. The majority of my work has been with individuals with spinal cord injuries, but I'm always open to any opportunity which allows me to help people access their bodies in new ways. I wholeheartedly believe that "impossible" is a state of mind & I encourage people to reevaluate what they think limits them.
This mentality allows me to resonate with & support the mission of Life Rolls On. Life Rolls On is a subsidiary of the Christopher & Dana Reeve Foundation, and is dedicated to improving the quality of life for young people affected by spinal cord injury and utilizes action sports as a platform to inspire infinite possibilities despite paralysis. This past year I've volunteered at adaptive surfing events in San Diego & Manhattan Beach & adaptive skiing at Big Bear Mtn. I've crossed paths with amazing people & am grateful to each and every one of them for inspiring me in one way or another.
Volunteering & being an advocate for people with disABILITIES has truly changed my life. Connecting with people of all abilities on a regular basis allows me to spread 3e loves message: Embrace who you are. Embrace the diversity around you. Educate your friends and family. Educate your peers at work and school. Educate the community you live in. Be empowered and empower others. Love life.
I choose to rock 3elove & spread the brand because I love everything it stands for. I support a powerful social message & I support Stevie's journey. A journey of healing, a journey of finding himself, & most significantly a journey of him connecting &
uniting through everything that brings HIM joy :)
Jan. 20th may have come & gone, but it's never too late to take action….how do YOU embrace, educate, & empower?
Check out the 3elove store to score some rad apparel of your own. My favorite is the American Apparel Love Zip up. Happy shopping.
As always, keep it real!
xoxo ar