By living in LA, were up against a lot of traffic & pollution. Both can lead to some gnarly stress, which can cause inflammation in the body. Some places where that inflammation is evident is on the face, in the form of acne/breakouts. One of my dear friends hollered at me today to come over & work some magic on her face. I'm no licensed esthetician (a person who is trained in the cosmetic treatment of the skin), but with a little research & a dash of intuition, I love creating beauty treatments for friends using natural ingredients, especially facials! Facials are amazing for both men & women because they cleanse off all the build up accumulating around your pores. As layers of dead cells are sloughed off, your skin is left feeling fresh & radiant. Were faced with two issues though…1) facials can be expensive, running you around $80 or more a pop 2) Some facials treatments use harsh chemicals which can lead to putting even more stress on the body.
If I were to get a really, really, bah.nans, out of this world all natural organic facial I'd say it'd cost me around $100 plus gratuity. Then I'm going to be told that I need to come back on a monthly basis. My wallet is getting thinner just thinking about it. I would never fight the fact that getting advice from a trained professional on what works best for your skin is a great idea, but it can be pretty costly to get facials on a regular basis. My solution? Take $100 or so & invest it into my little at home spa! Now I can splurge on professional facials from time to time throughout the year, but keep up monthly maintenance on my own without breaking the bank.
Steps to create a cost-friendly facial using natural ingredients!!
1. Face Map
The fist step is to take note of where blemishes, spots, &/or acne breakouts are concentrated & relate them to the facial chart on the left. In Chinese Medicine it is believed that different parts of the face correspond to different apects of the body. I've found that paying attention to this can be very telling. For example, if I go on a bender & know I've been consuming too many alcoholic beverages or have been eating poorly, my body tells me it needs to detox by breaking out around the chin area. The chin corresponds to the kidney & bladder, which are major detoxification centers in the body! Notice where you breakout and try to figure out if the facial map correlates to what's going on in your life. Breakouts can be a result of both external & internal triggers. It's important to note that acne is a process that starts on the inside, breaks the surface, and THEN is visible on the outside. You may benefit from taking the time to analyze what's going on inside you before seeking expensive, chemical treatments that may be only masking your problem. Think, if you breakout around your nose, could you be holding unreleased emotions in your heart? If your jawline is the issue, could you be having digestive problems or maybe it could be related to the chakras located around the stomach area? Everyone will have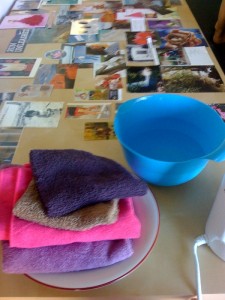 different triggers- it may or may not work for you, but definitely worth a shot!
2. Prep
Fill a bowl with warm water & have plenty of towels on hand.


3. Start the steamer
This was one of my "larger" investments. It's a Paragon table-top facial steamer. It cost me $60. It's amazing! It really elevates the standards of at-home facials. You fill it with distilled water, flip the switch, let the water heat up to a boil, & steam is released through the rotating arm. It takes about 5-7 min for it to start steaming so it's smart to get it going while you continue to prep other things.
This particular unit usually gives you about 15-20 min of quality steam time. My general sequence of events during a facial is: cleanse. exfoliate. steam. mask. moisturize, but when I use this unit I tend to have my client sit under the steam as I cleanse their face & it usually stops as they are about half way through the mask. If you don't feel like spending the money on this unit you can induce a steam-like effect by placing a warm towel over you face to open up your pores.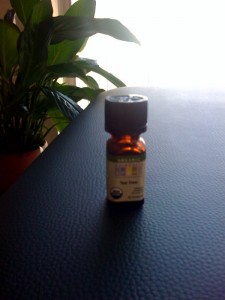 4. Essential oil
The great thing about the table top steamer I purchased is that it also has an essential oil slot! You place a few drops of essential oil on a strip that gets inserted near the arm of the steamer. The aroma is then diffused through the steam. For my friend who needed to detoxify, I chose to use Aura Cacia's tea tree essential oil. The aroma of the oil is warm, spicy, & medicinal. Aromatherapy benefits include being cleansing, purifying, & uplifting. 100% Organic Essential oils cost ~ $8.
5. Cleanse
Wash your hands & cleanse your face to remove dirt & residue. If you have a certain cleanser that works best for you, then use what's familiar to your skin. When giving my friend a facial today I started out by using a cotton ball dabbed in witch hazel (Hamamelis Virgi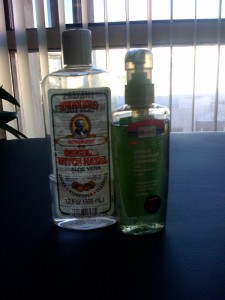 niana) to remove dirt & oil from her face. Witch hazel is a natural product obtained from the leaves & bark of the witch hazel shrub. The tannins in witch hazel give it astringent properties. An astringent tones the face by minimizing the size of pores & can cleanse acne-prone skin. I like using Thayer's original witch hazel with aloe vera astringent, which runs for ~ $10. If you tend to have dry skin you shouldn't further dry it out by using astringent. Read more about the Benefits of Witch Hazel for Acne.
At this point, my friend is currently laying under the steamer which facilitates the opening of pores in order to release toxins. To further cleanse her skin I dipped a towel in a bowl of warm water & pressed it against her face to get it wet. Then, I lathered her up with Biore's Steam Activated Cleanser (Cost ~$6). Although this is one of the less natural ingredients used, my friend gives it a thumbs up! Product Features Include:
Infused with Green Tea extract, known for its antioxidant and detoxifying properties.
Ultra mild: soap free, sulfate-free, vegetable based. Will not clog pores.
Uses the pore opening power of shower steam for a truly deep clean.
Cooling mint extract complex counteracts the warmth of the shower to invigorate & leave skin feeling fresh, clean, & vibrant.
6. Exfoliate
Exfoliating sloughs off layers of dead skin so that healthier, smoother skin can shine through. One of my favorite exfoliators of all time is COFFEE! You must, must, must! try it…life changing. I blend coffee grounds with a base of Aura Cacia's Organic Sweet Almond Oil (~$6). Apply to face in circular motions & then wipe off with a wet towel. I use almond oil because it's moisturizing & rich in Vitamin E. The almond oil isn't absolutely necessary, but do make sure to buy ORGANIC COFFEE! Why? You don't want to put any unnecessary chemicals on your face! Here's a little lesson I learned from one of my fav restaruants- Urth Cafe…
– Heavy Chemicals – Coffee is the heaviest chemically treated food commodity in the world. The most common chemical used in coffee production is synthetic petroleum based fertilizers which slowly destroy the soil's fertility and seep into local water supplies.
-Deforestation – Coffee trees do not naturally grow in direct sunlight, but under the shade of dense rainforest. To increase productivity, the coffee industry has developed sun-resistant coffee tree hybrids that have come to comprise approximately 70% of the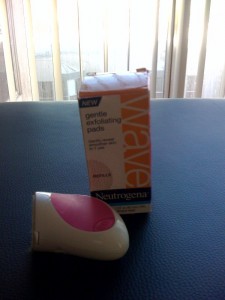 world's coffee production. As a result rainforest is being cleared at alarming rates to make room for new, sun resistant coffee trees.
After the divine coffee exfoliator, I use Neutrogena's Wave Power Cleanser (~$8). Don't worry boys it also comes in blue & green ;) This little thing is ah.mazing. It vibrates to cleanse & exfoliate your skin & truly leaves your skin feeling soft after just 1 use. Pretty simple to use too..Apply a pad to the attachment head, run it under water to activate the foam, press the power button & gently massage over your face. For double the price ($16), there's also a more evolved version of this product called the Wave Sonic. Same concept, but it has 2 speeds: one for gentle daily cleansing & another for deep cleansing.
7. Mask
Because my friend tends to have oilier skin, I applied a clay-based face mask. For dry skin, try using a hydrating gel or cream mask. Always read the directions on products for application times.
I enjoy making my own masks out of natural ingredients, but today I used, faceSPA's purifying clay facial masque in clay & ginseng. My friend loved it. She felt that her skin was pulsating during & noted her face felt extremely fresh after. On Amazon it retails for about $25, but I picked mine up for probably no more than $10 at TJMaxx.
I use a foundation brush (~$7) to apply the mask to make it feel like a true SPA-like experience :) This specific mask called for a 15-20 min application time. After the time was up, I used a wet towel to remove the mask. Whala! Radiating skin revealed!!
8. Moisturize
Now in a re-freshed state, your skin is better able to absorb products. We smoothed on a mosturizer + sunscreen & eye moisturizer.
After her facial, my friend was left oozing with radiance. Her skin was smoother, dewey & fresh…she looked ah.mazing!! Hope you have similar results! To give you a quick cost comparison…The LA Skinny Black Book to Beauty listed Marc Edward Skincare as the winner of the "Best Facials in Los Angeles That Works" for 2010. An organic facial here cost $155! If you add up the price of all my equipment + products for the facial listed above it totals between $110-$125. The fact that these products & equipment keep on giving make this a beauty treat worth investing in!
Enjoy :)
xoxo ar