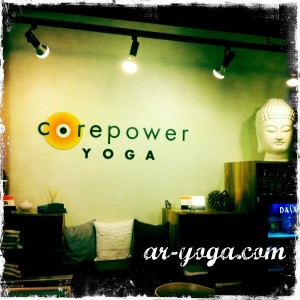 Interested in taking a yoga class in LA with ar-yoga? Check out Corepower Yoga Studios throughout the LA area! Search for Amanda R. on the schedule at the following CPY Studios…
Wilshire
& Sherman Oaks.
CPY
Torrance
..coming soon! I'll keep you posted. Currently, I lead consistent classes every week and sub several classes as well. You'll find me in the following classes…
CorePower Yoga 1 (C1):beginner-level CorePower Yoga class, room temperature (80 degrees), 60 minutes
CorePower Yoga 1.5 (C1.5; formerly CAF): – between a C1 and a C2 class; designed with a focus on alignment for beginner students before transitioning to a C2 class; all levels, 90 degrees, 60 minutes
Yoga Sculpt: All levels, CorePower Yoga class with free weights; 90 – 95 degrees with humidity, 60 minutes
Corepower Yoga, what style of yoga do you offer? Read on…
CorePower Yoga offers a truly unique yoga practice based on intuition rather than tradition. CorePower Yoga heals, detoxifies and exhilarates the body and mind with emphasis on movement, balance and intention. CorePower Yoga has created a dynamic, challenging program that combines strength, flow and spirituality.CorePower Yoga is an intense practice that appeals to everyone from the working professional to the stay-at-home mom. During class, time and space and the worries of the day disappear and the focus is solely on flow, movement, balance and intention. A Vinyasa-style yoga, CorePower Yoga focuses on core strength, balance and flow to build a solid practice based on strength and spirit. A secular practice, CorePower Yoga honors the roots of yoga without imposing the preconceived spiritual practices of other programs. Our role is to guide students to make their practice their own and their intention personal – each student is encouraged to embark on their own spiritual journey. As is often said in class, "I am only here to be your guide. You know your body best, listen to it and follow your intuition."Accessible to beginners and advanced students, CorePower Yoga emphasizes breathing to connect the body and mind. CorePower 1 and CorePower 2 classes are offered at all studios nationwide. We recommend taking at least 5 to 10 C1 classes before taking a C2 class. C1 is unheated and instructors teach at a slower pace.
Yoga Sculpt? Weights AND yoga!? Read on...
CorePower Yoga Sculpt is a total body workout designed to tone and sculpt every major muscle group. Yoga Sculpt is a unique flow that incorporates weights to strengthen & lengthen, all while staying true to the philosophy behind yoga. Come flow with me to enhance, align, & strengthen your mind, body, & spirit in this invigorating & uplifting class. Using free weights as you move through sun salutations and other yoga postures adds another element to your practice, enabling extra length and strength in each pose. This intense, but easy to follow program complements your regular yoga practice while pushing your strength and flexibility to new heights.
Why strength train? The main reason to strength train is to build lean muscle mass. Aerobic activities are good calorie burners, but strength training two days a week will have a greater long-term impact on your metabolism.
Want to try Corepower Yoga?
Come in for 1 week FREE of UNLIMITED YOGA…Get your Free Week Coupon Here…tell 'em I sent ya!
Namaste!
xoxo,
ar