You've already been warned the Fall is by far my favorite season. Something about the cool, crisp weather, knee high boots re-emerging, crocheted beanies, changing of the leaves, family and friends gathered around food- it just does it for me. Here I share some of my all time fav- vegan, mostly healthy (depends who you talk to), but none the less, deliciously satisfying foods for the fall & holiday season. There's something about cooking that soothes my soul. I love that cooking provides me with the opportunity to pour my energy into something that can be so incredibly nourishing for the body- they say that food can be your medicine or your poison. Everything I create in the kitchen is usually made with organic, local foods & infused with lots of love, good energy, & positive vibes. Take the time to become a powerhouse in the kitchen and create something sacred and sublime with these simple recipes :) I love that my dinner & side dish recipes below can pack a powerful punch in taste whether you keep it vegan or you incorporate chicken or fish into the menu. No judgement on my end, I just think it's a healthy and easy way to please all involved. Check out other ways to welcome Autumn's energy by clicking here OR Learn more about seasonal eating here by looking over fall recipes & putting together a menu using fall ingredients!
happy cooking!
xoxo ar
Pumpkin or Butternut Squash Brown Rice
This recipe is too easy! Just make brown rice on the stovetop using vegetable broth and add either pumpkin or butternut squash into the mix. Viola! Don't get caught up in the recipe, I only provide it as a guideline. ..note that different types of brown rice call for different ratios of liquid and vary slightly in cooking times.
Place all ingredients in a medium saucepan. Bring to a soft boil over medium heat. Reduce heat to low, cover and simmer for 45-50 min, or until liquid is absorbed. Remove from heat. Serves about 4.
Roasted Curried Cauliflower
My best friend Jessica & I stopped in at Karyn's on Green- a Chicago-based, contemporary, stylish, vegan eatery with delicious food and a vibrant bar scene. We had a curry cauliflower dish there that left us begging for more. My friend actually found this recipe by Sandy Todd Webster that resembles the dish to a T!
2 tbs extra-virgin olive oil
Juice from 1/2 lemon
1 tbs yellow curry powder
1/2 tsp salt
1/2 tsp smoky paprika (optional)
1 head of cauliflower, leaves & core removed, florets cut into 1/4-inch slices
fresh cilantro leaves
Preheat Oven to 450 degrees Fahrenheit.
In large bowl, whisk together oil, lemon juice, curry, salt, paprika.
Add cauliflower slices & toss to coat.
Spread in a single layer on a baking pan lined with aluminum foil (for easy clean up).
Bake until cauliflower is tender- crisp and brown, about 30 min.
Sprinkle with lemon juice from the left over half of the lemon & garnish with cilantro.
Serves about 4.
Spiced Wine
My go to for all holiday parties that I host. There are endless varieties out there, but the following is my favorite.
2 oranges
2 (750 milliliter) bottles red table wine- experiment with organic, local, & sustainable varieties
1 (3 inch) piece of fresh ginger, peeled and thinly sliced
3 cinnamon sticks
1/2 tsp whole cloves
1/3 C brown sugar, or to taste- can also use honey, but honey can also create a very sweet end result- I've done both in the pas, ultimately up to your taste buds.
1/4 C brandy or Grand Marnier (optional)- I usually do not add this, but depends, how hard are you trying to party?
You can also add a little bit of nutmeg for an extra zing!
Sometimes I just slice the oranges and toss them into the mix like that, or you can also use a sharp knife or a vegetable peeler to remove the zest from the oranges. Then, juice the oranges into a large, heavy-bottomed pot. The reason I like to slice the oranges is because then I can toss them into the serving mugs later for decoration, but why not do both ways?
Add in the wine, ginger, cinnamon sticks, whole cloves, and brown sugar (or honey) into the pot; stir to dissolve the sugar.
Cover and heat over medium-high until heated to the point that when you stick a thoroughly washed & clean finger in, it's warm to touch, but not boiling (you don't want to burn off the alcohol), reduce the heat to medium-low and heat for 1-2 hrs to allow all the flavors to meld together. The longer it sits & warms over low heat the more flavorful it becomes, I've let it settle for up to 3 hours before. Adjust the sweetness by adding more brown sugar or honey, as necessary. Strain and serve hot with a splash of brandy or Grand Marnier, if desired.
I serve it in a mug garnished with an orange slice & a cinnamon stick. Mmm, warms you from the inside out!
Dark Chocolate Bark
A friend, Jackie, introduced me to this recipe that comes from Stephanie Lecovin, MS, RD from Nutrition Housecalls. Check out her website, it is filled with tons of yummy recipes to try! This dark chocolate bark is not only packed with antioxidants, but is outrageously decadent. A total hit!
3 Tbs canola or walnut oil
6 Tbs pure maple syrup
2 C raw pecans
½ tsp sea salt
¼ tsp cayenne (less if you can't stand the heat)
½ tsp cinnamon
½ tsp nutmeg
3 C dark chocolate (~70%)
Preheat oven to 400°F.
In a large skillet, heat oil and maple syrup until bubbling. Add pecans and stir until they are well coated, then mix in salt and seasonings. Cook for 4 minutes, then remove pan from heat.
Place nuts on a parchment lined baking sheet. Place sheet in oven and roast for 4 minutes. Remove from oven and cool completely.
In a separate saucepan over very low heat, melt chocolate, stirring often. Pour chocolate into a parchment lined 13 x 9 glass dish or onto a larger baking sheet (depending on whether you want the bark to be thicker or thinner).
Break up the pecans and sprinkle over the chocolate. Using a spatula, spread the mixture evenly back and forth.
Allow to sit out until set, 1-2 hours. Break apart into chunks.
Raw,Vegan, Gluten Free- Almond Milk & Frosted Carrot Cake Balls
After developing an almond milk recipe that I love, I was always left with a ton of "almond pulp" that I never knew what to do with. My friend Melissa, The Raw Food Stylist, provided the amazing recipe for carrot cake balls so that I no longer had to waste my almond pulp. In one of my mad scientist evenings in the kitchen, I went on to add the raw cashew frosting, and haven't looked back since. Making these 2 delicious concoctions practically go hand in hand because once you realize they have similar ingredients, and that some ingredients for one depend that you make the other, it becomes pretty obvious that these 2 recipes were just meant to be made together- because what sounds better than frosted carrot cake & warmed almond milk? Read the recipes & follow the sequence of events depicted below to make this process as seamless as possible, because trust me, it can get messy!
Almond Milk
3 C nuts or seeds (I do 2 C of almonds, 3/4 C cashews, 1/4 C hemp seeds)
1/2 C honey
1/2 tsp vanilla
1/4 tsp salt
1/2 tsp cinnamon nutmeg (pumpkin pie blend works perfectly)

5 C fresh coconut water (ideally straight from coconut, but fresh water works as well)
1 C of mellow date water
soak your nuts: place nuts in a bowl, add fresh water, & soak at room temp. Generally, the more dense the nut, the longer the soaking time. Soak almonds for 8-12 hrs & Cashews for 2-3 hrs. Once soaking is complete rinse off nuts.
blend: place all the ingredients into the blender, except for the coconut & date water. Fasten lid. Begin to blend as you slowly add the water through the small opening at the top of the blender.
strain: place a cheesecloth over the opening of a large pitcher. Strain the mixture from the blender through the cheesecloth. Breakdown this process by only straining half, squeeze out any milk from the solid particles contained in the cheesecloth, place in a separate container, repeat with remaining nut mixture.
enjoy! :)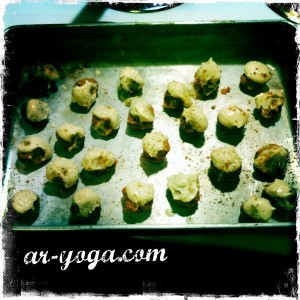 Carrot Cake Balls
Makes about 25 balls
1 C carrot pulp (Use pulp left over after juicing or I throw carrots into my food processor until they are so finely chopped they are more of a mushy pulp vs solid and finely chopped)
1/2 C almond pulp (left over solids from making almond milk)
1 C of dates (soaked & pitted, you want them to have soaked long enough that they are mushy & pliable)
1 tsp vanilla (when I use fresh vanilla bean, I cut it in half lengthwise & scrape the insides & use 1/2 of the vanilla bean here & the other 1/2 for the frosting)
1 tsp pumpkin spice blend
1/2 tsp cinnamon mix (make your own blend by mixing cinnamon, nutmeg, clove- I only use a bit of the nutmeg & clove as they can be overwhelming spices & use more cinnamon)
dash of sea salt
-With your hands, mash all the ingredients together in a bowl. You want to rip & mush the dates apart and really work it into your mixture so it becomes somewhat sticky. If it's not sticky enough, try adding a bit more "stick factor" by adding a couple more dates. -Roll into small balls (Tip: Make balls small rather than big because these bad boys are going to be sweet and you don't want to have an overwhelming amount in your mouth all at once. Better to eat 2 small ones vs one giant one) -From here you can get fancy & roll them in coconut flakes, frost them (recipe below), or keep them simple by doing nothing else -Place balls in refrigerator (If making these for friends or a party, I usually make them the night before. I find that leaving them in the fridge overnight allows them to really hold their shape.
Frosting

1 C cashews (soak for at least 30 min & no more than 1 hour)
Juice of 1 large lemon
3 pitted fresh dates
1 tsp vanilla (when I use fresh vanilla bean, I cut it in half lengthwise & scrape the insides & use 1/2 of the vanilla bean here & the other 1/2 for the frosting)
fresh purified water
-Except for the water, place all the ingredients in a blender or food processor. -Begin to blend & slowly add water. -Watch for the mixture to become creamy. Feel free to stop the blender & taste test for the desired consistency. Better to go slowly than add too much water and make a watery frosting.