About AR-Yoga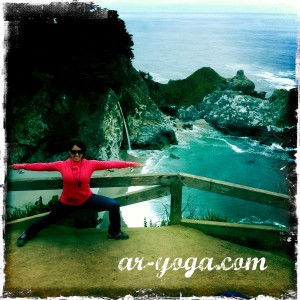 Amanda has her Doctorate in Physical Therapy & holds a Bachelors in Kinesiology & Gerontology. She's a certified yoga instructor & Reiki Master. She has additional trainings in: adapting yoga for physical disabilities, yoga sculpt (yoga with weights), yoga-pilates, mat pilates & reformer pilates. She's committed to providing others with insight & direction while inspiring them to deepen their knowledge & passion for movement & well-being. Her experience & knowledge allows her to connect to humanity in unique and exciting ways. She enjoys yoga, beach volleyball, biking, hiking, surfing, & cooking.
The Journey of Discovering my Authentic Self
While training for a marathon someone encouraged me to try yoga. I went once, but instantly put it off with the mentality that it wasn't "fast paced" enough- "These people have been laying around for an hour & I could have ran 7 miles by now", I thought. While at the University of Illinois completing my degree, doing research, personal training, teaching group fitness classes, & keeping up with my social obligations, I was drawn back into a yoga class. This time around I realized I was living my life at such a fast pace, that I was resistant to the idea of slowing down. My schedule was so mind blowingly hectic, that for the first time, I actually welcomed the stillness into my life. I began practicing consistently and noticed that the simple act of flowing through poses on my yoga mat provided me with endless opportunities to discover different aspects of myself that I wasn't aware of before.
My background & lifestyle combined with a deep curiosity inspired me to become a yoga instructor. I completed my 200-hr Corepower Power Yoga Teacher Training in Chicago. It was exciting, inspiring & incredibly transformative. I was able to deepen my own practice & connect with incredible people who were doing the same. I was quite grateful to be able to take part in such a powerful experience, especially as I transitioned into the next phase of my life- Moving to California to pursue my Doctorate in Physical Therapy at the University of Southern California.
Everything I've chosen to become a part of has been a natural extension of my intuitive knowing of the invaluable benefits of movement. I've always been drawn to it & many of my experiences have solidified the fact that movement itself is very therapeutic. It's so exciting that through physical therapy I am able to use movement as an avenue to restore mobility, optimize function, & enhance quality of life. I am able to participate in a healing process that is priceless.
I started volunteering in the spinal cord injury community & then subsequently started developing ideas for how I could adapt yoga. I love to challenge traditional rehab models & use yoga to help people reconnect with their bodies. In 2010, I completed Mind Body Solutions Adapting Yoga for Disabilities Level I program. This further awakened by ability to help people access their bodies in new ways.
Working with individuals who are paralyzed brought me to my next realization…there has to be more to life than just the physical body. My mom introduced me to Reiki, an ancient energy healing system. The word Reiki is made of 2 Japanese words – Rei which means "Universal Wisdom or the Higher Power" and Ki which is "life force energy". Naturally, I was resistant at first, but then I noticed Yoga & Reiki have many parallels- this allowed me to become more open to the idea of energy healing. Through personal experience, I know Reiki is capable of balancing & harmonizing energy on physical, mental, emotional, spiritual, & karmic levels. My path to Self Healing is what inspired me to study the system and become a Reiki Master. I've also had additional training & experience with: shamanism, craniosacral therapy, & visceral listening.
My Journey, diverse experiences & training have prepared me to deal with the WHOLE person. I am a huge advocate for integrative medicine & addressing patient's and client's needs from a holistic perspective. Thus, in my Physical Therapy practice, in addition to traditional approaches, I also include intuitive work and energy healing. I currently teach at CorePower Yoga locations throughout LA and do private energy healing and yoga sessions. Where my path takes me next is yet to unfold, but as I journey on, I live by these words… "Travel light, live light, spread the light, be the light."
Keep up with me at www.ar-yoga.com. AR-Yoga was created based on my intention to unite & connect through all things that bring me joy. It's a platform for me to express & share the things that I have explored & become passionate about- food, fitness, meditation, physical therapy, yoga, adapting yoga for disabilities, energy healing, photography, music, philosophy, eco-friendly initiatives & many more blissful things :) stay up to date with the latest posts on the fresh page! enjoy!
ar-yoga.com officially launched on 1.1.11, symbolic of new beginnings. Check out our post describing the further significance of our launch date!
namaste. xoxo. ar