Kristen Taylor, salmon cakes, aioli, and allium flowers, September 12, 2009 via Flickr, Creative Commons License
Just made these super simple Breaded Salmon Cakes- a recipe I tweaked from Stepahnie Lecovin, MS, RD from nutritionhousecalls.com
These guys are dairy free, gluten free & to DIE for! BREADED salmon cakes that are gluten free you say? Yep, it's true, you can use BROWN RICE "bread crumbs", genius! Use Brown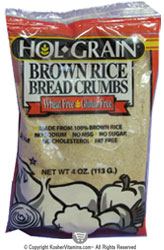 Rice bread crumbs the same way you'd use regular bread crumbs: breading for seafood, chicken, beef, or pork, use in casseroles, meatloaf or croquettes, or as stuffing mix. I, personally, used Hol Grain Brown Rice Bread crumbs. The ingredients? Straight up Medium Grain brown rice & that's it.
Made from 100% Brown Rice
No Sodium
No MSG
No Sugar
No Cholesterol
Fat Free
Simple Diary-Free, Gluten-Free Salmon Cakes
1-2 lbs of salmon, skin & bones removed, cut into large chunks
1 egg
1 teaspoon sea salt
freshly ground pepper, to taste

Juice from 1/2 lemon
Brown Rice bread crumbs
Extra Virgin Olive oil
Place Salmon, Egg, Salt, Pepper, & Lemon Juice in food processor
Process for about 10 seconds until thoroughly combined- CAREFUL: OVERMIXING= MUSHY SALMON.
Form into patties
Sprinkle both sides of patties with brown rice bread crumbs
Put a bit of olive oil in saute pan & cook patties over medium heat until patties are browned and salmon is thoroughly cooked from within, about 2-3 min per side.
I did 1 lb of Salmon which yielded 6 patties, using 1 1/2 -2 lbs of salmon will yield approx. 10-12 patties. Make them even smaller, stick a toothpick in them & you will be appetizer maker extraordinaire!
ONION LOVERS: Heat ~1 Tbs of olive oil in saute pan. Add 1/2 red onion finely chopped (1/2 onion yields ~1 C chopped). Saute on low to med heat until onions are browned. Remove from heat & set aside in medium bowl. Begin following the steps listed above. After, mix all the ingredients in Step #1 in the food processor, add salmon mixture to bowl & fold in the onions until combined. Move onto Step #3.
Cheers to Clean Eating!
xoxo
ar
Check out more ar-yoga healthy, gluten-free, dairy-free recipes here!