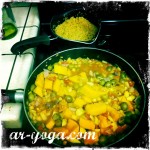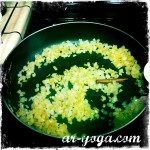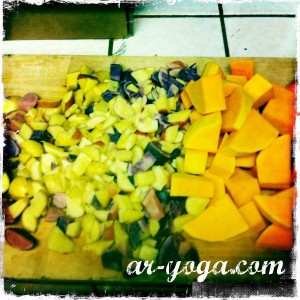 I love finding new ways to incorporate more squash onto my plate this fall season. Squash & chickpea moroccan stew, courtesy of Yoga Journal's Nov. 2011 issue, was just the meal I was jonesing for. It's grounding, comforting, delicious, & nutritious. Its a vegan recipe, but for all my omnivore friends out there-try adding in some boiled chicken (the kind that's tender & falls off the bone). For a bit of a protein boost, I chose to mix the stew with quinoa. WHfoods.org provides tons of reasons why quinoa is a superfood- but most notably, "not only is quinoa high in protein, but the protein it supplies is complete protein, meaning that it includes all 9 essential amino acids. Not only is quinoa's amino acid profile well balanced, but quinoa is especially well-endowed with the amino acid lysine, which is essential for tissue growth and repair." 1/3 C of quinoa has 6 grams of protein & a general rule of thumb is that an ounce of meat or fish has approximately 7 grams of protein. Another added bonus is that quinoa is gluten free.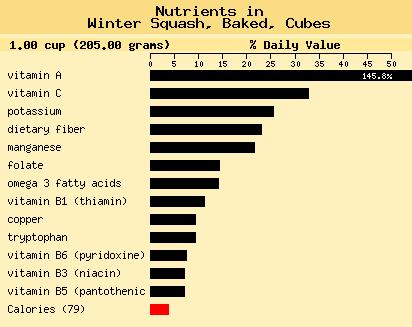 Winter Squash is in season and there are many compelling reasons why it should be incorporated into your life this fall. Check out it's nutritional profile (provided by WH foods) on the right. According to World's Healthiest Foods, this veggie is a vibrant orange hue thanks to the fact that it packs tons of carotenoids. What can high-carotenoid foods do for you?
Their powerful antioxidant effect can protect the cells of the body from damage caused by free radicals
Provide a source of vitamin A
Enhance the functioning of your immune system
Help your reproductive system function properly
Winter squash is rich in vitamins- A, K, C, E & B, trace minerals- manganese & potassium, as well as omega-3 fatty acids, and folic acid.
For other fun fall meals check out Favorite Healthy Vegan Recipes for the Fall & Holiday Seasons
Squash & chickpea moroccan stew
4 servings
2 T olive oil
1 medium yellow onion, diced small
4 medium garlic cloves, thinly sliced
2 tsp. ground cumin
1 cinnamon stick
2 C vegetable broth
1 pound butternut squash, peeled & diced large
3/4 pound red potatoes, dice large
2 C drained, cooked chickpeas
1 (14 oz) can diced tomatoes, with juices
pinch saffron, optional
1/2 preserved lemon, finely chopped (Many Moroccan & Middle Eastern recipes call for preserved lemons- lemons that have been pickled in salt and their own juices. I did not add this, but if you're feeling up to it, try this preserved lemon recipe from epicurious)
1 C brined green olives, preferably Cerignola
Salt & Pepper, to taste
Heat oil in a large, heavy bottomed saucepan with a tight-fitting lid over medium heat. Add onion, garlic, cumin, & cinnamon. Cook until the onions are soft & translucent, about 5 min.
Stir in the broth, squash, potatoes, chickpeas, tomatoes, & saffron (if using). Season with salt & pepper, and bring to a boil. Reduce heat to low, cover, & simmer until the squash & potatoes are fork tender. 30-45 min.
Remove from heat & stir in preserved lemon and olives.
Serve over couscous or quinoa
Looking to make all of this absolutely effortless? Try throwing everything into a crockpot!
Happy Cooking!
xoxo
ar