There's nothing you can't do, Now you're in New York, These streets will make you feel brand new, The lights will inspire you!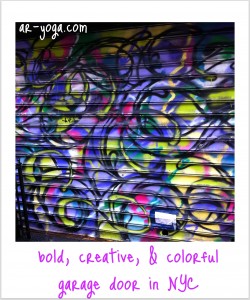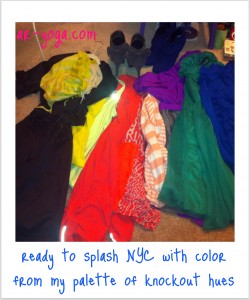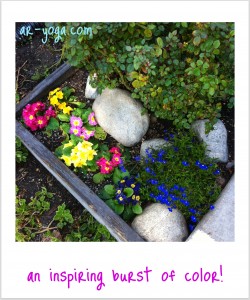 This Spring I made my way from LA to NYC! My trip across the country was incredibly inspiring & filled with many exciting experiences. In order to clear my head so that I would be better able to pack for my 2 & a half day adventure in the big apple, I headed to the gym. It was such a beautiful day in LA that I chose to walk there. Along my walk, I saw a breathtaking bed of SPRING flowers. I couldn't help but be in awe & be incredibly INSPIRED by this BURST of COLOR! This solidified ever ything…When packing for NEW YORK I refused to pac k black (one exc eption though! my favorite & most f abulous black trench :)). This was operation Splash color all over NYC with my palette of knockout hues. Afterall, my insider source says Spring is a ll about the-bolder-the-better BRIGHTS!! Now that I was off to visit Ciav, I was certain that all the upbeat colors I packed were bound to bring him a bit of California sunshine, which would allow him to shake off any new york funk he may have acquired while he'd been living out there for the past month.
My very first day in NYC I began my adventure by walking to Chelsea Market to meet up with Ciav. As I'm heading there, I am making it a point to soak in all the uniqueness & excitement that the streets of NYC have to offer. AND THEN..I run into this absolutely amazing garage door. Garage door?! Come again? Yep, garage door! This thing was bold! brilliant! creative! and of course bursting at the seams with COLOR! So from here on out, Done AND Done! COLOR was officially the theme of not only my NYC trip, but also of the Spectacular Spring that lies ahead. This was a sign that this upcoming Spring is meant to be fueled by color and creativity, it's going to be animated, happy, & injected with LIFE! Good Times lie ahead my friends.
Below I highlight the most memorable moments from my trip to NY!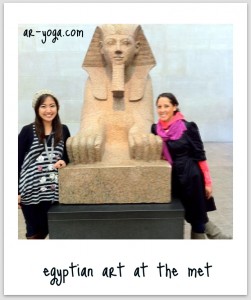 The Metropolitan Museum of
Art:
Saw the Egyptian Art Exhibit & the Asian Art Exhibit! So much culture, authentic craftsmanship, & history all under one roof.
Dinner at Alta & Drinks at Fat Cat:
Alta was great a tapas restaurant. Fat Cat was a dope little spot that not only offered live music, but also had ping pong, pool, shuffle board, checkers, chess, & scrabble to keep us entertained.
Hot Vinyasa Yoga at Yoga To The People on 6th ave:
$5 for a class here! LOVE! Yoga to the People Studios make a statement & they make it well- make yoga accessi ble to
everyone! It's for sure a space where all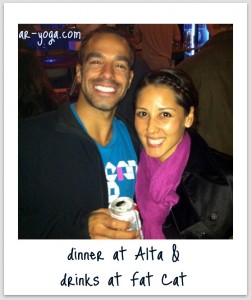 bodies rise. Check out my Yoga to the People NYC review here!
Lunch at the Simple Kitchen:
Quite the little gem I stumbled upon when exploring the Chelsea Market area. This place offers satisfying, natural, organic & freshly prepared deliciousness! Check out my The Simple Kitchen review here!
Carrie Bradshaw's Sex & the City apartment:
I found THE iconic steps from SATC. Here, Carrie experienced everything from bliss to heartbreak throughout the 6 seasons that the show aired. It's located about 1 mile away from The Simple Kitchen, so I suggest you grab a bit e to eat there, and as you head towards the famous steps, mak e time to check out Chelsea Mar ket and
The High Line which are along the way!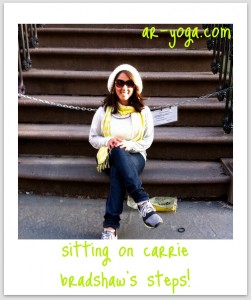 Watching the sunset from The High Line:
The High Line is located o n Manhattan's West Side. It's a 1.45-m ile park built on a section of the former elevated fr eight railroad spur c alle d the West Side Line. It has been redesigned and revamped as an urban park. The recycling of the railway has spurred the development of fun and funky shops, restaurants, and bars in the surrounding area. The park itself is very modern, peaceful, & artsy. The unique design and particular placement of so much greenery makes it feel like a true urban oasis.
Take in the NYC skyline while walking across the Brooklyn B ridge:
We needed to find the perfect place to catch a gli m pse of the NYC skyline & walking across the Brooklyn Bridge at night was th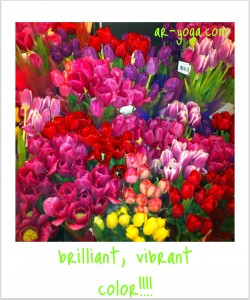 e perfect way to bring my trip to a close
!
The last th ing I ended up snapping a picture of in NY was these EYE POPPING TULIPS! Seeing these Vi brant flowers sealed my intent to use deep- down- from- my- core creativity & COLOR to make this SpRiNg blossom with brilliance!
in live living COLOR,
xo xo ar